"I shall never surrender or retreat!"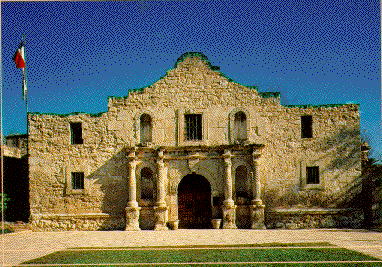 I recieved an e-mail a few days ago that really spoke volumes. A friend of mine had forwarded one to me, and I signed up to continue receiving them. In this particular email, one paragraph really stood out to me
Here is an excerpt,
The Alamo is that old Spanish mission in the heart of downtown San Antonio where 189 brave freedom fighters took their stand against the army of Mexico in the battle for Texas independence. I visited the Alamo recently, and once again I was moved by the sacrifice of those men who gave their lives for the cause of freedom, but only after inflicting some pretty heavy losses on the enemy army and inspiring the ultimate victory with the Texas battle cry, "Remember the Alamo!" Colonel William Travis was in command of the garrison as his valiant band stood against those overwhelming odds. I was especially moved as I read the letter that Colonel Travis wrote addressed to "the people of Texas and all Americans." In fact, I was so moved that I read part of it to the 5,000 young people I spoke to that night. He said, "The enemy has demanded a surrender. Otherwise, the garrison are to be put to the sword if the fort is taken. I have answered the demand with a cannon shot, and our flag still waves proudly from the walls. I shall never surrender or retreat." That's more than history. It's a battle cry for you and me.
(bold italics mine)
At times I have wanted to give up, throw in the towel, cash in my chips. Life just seemed too hard. Surgery, illness...which led to difficulty in school-missed homework, low grades. Not to mention concepts you could explain to me until we are blue in the face and I still wouldn't understand.
Another line in the email
your enemy the devil keeps calling for you to surrender - surrender to
discouragement, to despair, to bitterness, to disobedience, to retreat.
All my life I have heard of how much I wouldn't succeed. #1 beign my dreams for college and career. an agency I heard of that could help me pay for college ran me through a series of academic and vocational tests and had me talk to a counselor. I assumed it was their subtle way of telling me I wasn't cut out for college. I wasn't discouraged however. It had just fueled my ambition even more. (Take that!)
I know people who have turned away from Christ and I just dont understand.
Our answer every time the enemy strikes forever and always shall be, "I shall never surrender or retreat!"
I know mine will be
Listen to the audiobroadcast
here